Eastern Bluebird Birdhouse
Build the eastern bluebird birdhouse with red cedar, pine, or almost any soft wood. Use wood rough-cut on both sides so that birds can grip both interior and exterior surfaces.
Make a 4" by 4" floor (inside dimensions) and 9" floor to ceiling height (inside front). Drill a 1 1/2" diameter entrance hole located 7" above the floor (to top of hole). Drill or cut ventilation openings in the floor and under the roof.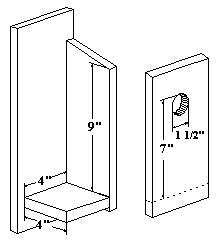 Attach a hinged roof for easy access to monitor and clean. Use shutter hooks to secure roof in closed position. Or make a fixed roof and Side Opening Doors. Always use corrosion resistant screws and hardware.
Drill countersunk pilot holes in primary work pieces. Drill regular pilot holes in secondary work pieces. This reduces a tendency for wood to split. It makes for easy assembly in minutes with a power or hand held screwdriver.
Extend the back wall panel beyond both top and bottom. Drill pilot holes in these long panels for mounting. Drill an extra mounting hole inside the box just under the roof.
Stagger these holes so that all are not in line along a single wood grain. Holes in line with grain can weaken and cause wood to split.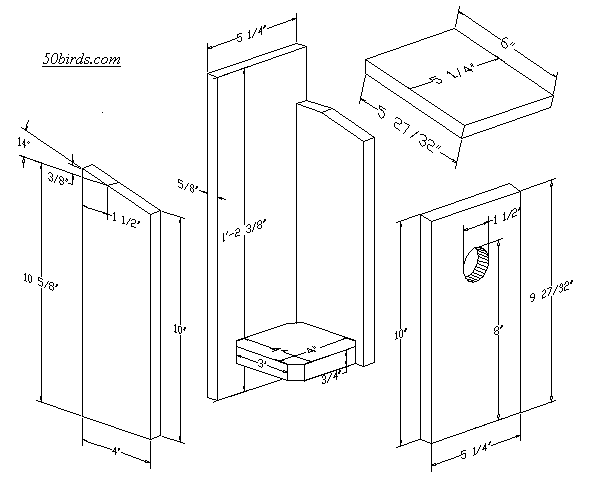 Mount bluebird houses 3' to 6' high in partial sun and shade on posts in woodland clearings, grove and shelter belt edges bordering fields, among scattered trees, or pasture fence lines.
Make a "bluebird trail" of several houses about 100 yards apart. Place them further apart in wide open expanses. Mount bluebird houses closer in clearings of wooded areas.
In areas where the eastern bluebird range overlaps that of the mountain bluebird, use the larger nest box for mountain bluebirds and western bluebirds. This birdhouse will accommodate all three bluebirds.
See range maps and more information on each bluebird species page.
Monitor the boxes for unwanted squatters. Deter predators with steel posts or sheet metal wrapped around wood posts. Avoid shade, but also avoid prolonged direct sunlight through the entrance if possible.
Place tree swallow nest boxes between bluebird houses. This invites good neighbors that will help defend against sparrows. But these bird houses also invite house sparrows, so monitor the swallow houses as well as the bluebird houses.
Remove the nest and clean the box well after the brood rearing season is past. Store or leave the box installed during winter. Birds might use it for a warmer.
Chickadees, nuthatches, titmice, wrens, tree and violet green swallows and house sparrows may also use this box.