Chickadees, Nuthatches and other species that remain in winter climates will gather together and cuddle in this cozy winter warmer.
Build this warmer with cedar, pine or most any softwood. Use wood stock rough-cut on both sides to simulate tree cavities and so birds can grip surfaces.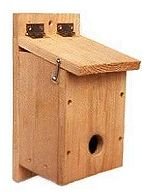 It has a 6″ by 6″ floor (inside dimensions), 9″ floor to ceiling (inside front), 1 3/4″ diameter round entrance opening located at floor level.
A hinged roof provides easy access for monitoring and cleaning. Shutter hooks secure roof in closed position.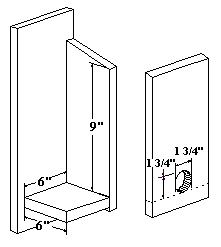 The back wall panel extends, both top and bottom, to provide for mounting holes (usually to a tree or post) and a third mounting hole can be drilled inside the box just under the roof. Stagger these holes so that all are not in line along a single wood grain which can weaken and cause wood to split.
Always use corrosion resistant screws and hardware. Drilling countersunk pilot holes in primary and regular pilot holes in secondary work pieces reduces a tendency for wood to split and makes for easy assembly in minutes with a power or hand held screwdriver.
Mount in the sun on a tree, post, or wall between chest level or just out of reach. Check regularly for needed cleaning.
Birds That May Use This Warmer