A Birdhouse for Chickadees, Nuthatches,
Titmice and Downy Woodpeckers
Build the chickadee nuthatch downy birdhouse for white-breasted and red-breasted nuthatches, black-capped, carolina, mountain and boreal chickadees, tufted and oak titmice, and downy woodpeckers.
Make this box with red cedar, pine, or almost any soft wood. Use rough-cut wood stock so that birds can grip wood surfaces. Always use corrosion resistant screws and hardware.
Attach a hinged roof to provide easy access to the interior. Use shutter hooks secure the roof in closed position. Although most any method of attaching and securing a roof will do as long as it can be removed for monitoring and cleaning.
Make a 4″ by 4″ floor (inside) and 9″ floor to ceiling height (inside front). Cut a 1 1/4″ diameter entrance hole located 7″ above the floor (to top of hole). Drill or cut ventilation openings in the floor and under the roof.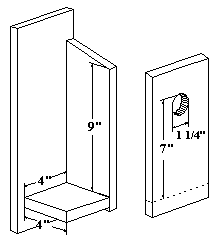 Extend the back wall panel beyond both top and bottom. Drill pilot holes in these long panels for mounting. Drill an extra mounting hole inside the box just under the roof. Stagger these holes so that all are not in line along a single wood grain. Holes in line with grain can weaken and cause wood to split.
Drill countersunk pilot holes in primary work pieces. Drill regular pilot holes in secondary work pieces. This reduces a tendency for wood to split. It makes for easy assembly in minutes with a power or hand held screwdriver.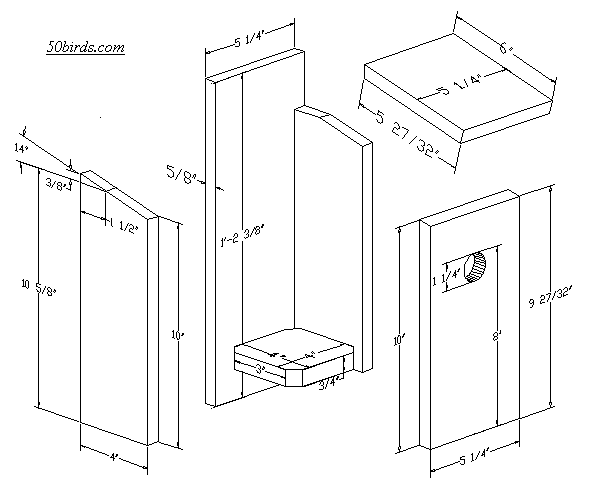 For the bird species that are likely to use this nest box, install in forests or groves on a tree or post with partial sun and shade between four and twelve feet high. Out of reach is best to deter the curious unless the box is well concealed. Also see each particular bird species page.
Remove the nest from the box in late summer or fall well after the brood rearing season is past. Store or leave installed and allow the box to winter over clean and dry. It might be used as a warmer by some of these birds.
Birds that Nest in this Birdhouse