Black-bellied Whistling Duck Nest Box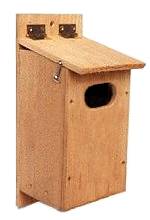 Build the black-bellied whistling duck box with cedar, pine or most any softwood.
Use wood stock rough-cut on both sides to simulate tree cavities and so birds can grip surfaces.
Make a 12″ by 12″ floor (inside dimensions) and 22″ floor to ceiling (inside front).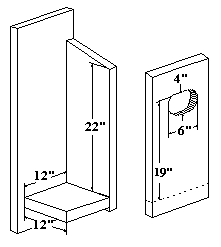 Make an entrance hole 6″ wide by 4″ high located 19″ above the floor (to top of hole).
Cut or drill ventilation openings in the floor and under the roof.
You may prefer Side Opening Doors instead of hinged roof doors for duck houses.
​Always use corrosion resistant screws and hardware.
Drill countersunk pilot holes in primary and regular pilot holes in secondary work pieces. This reduces a tendency for wood to split. It makes for easy assembly in minutes with a power or hand held screwdriver.
If full width wood stock is not available, use two 1″x 6″, or 1″x 8″ boards. They usually vary from 5 1/4″ to 5 1/2″ wide and 7 1/4″ to 7 1/2″ wide. Cut them to width and secure well. Reinforce with chamfer strips (inside) or batten strips (inside or outside) fastened perpendicular to vertical panels.
Plywood consists of glued, thin laminated panels. They are strong but prone to deterioration from moisture even when surfaces and edges are sealed with paint.
Extend the back wall panel beyond both top and bottom. Drill pilot holes in these long panels for mounting. Drill an extra mounting hole inside the box just under the roof. Stagger these holes so that all are not in line along a single wood grain. Holes in line with grain can weaken and cause wood to split.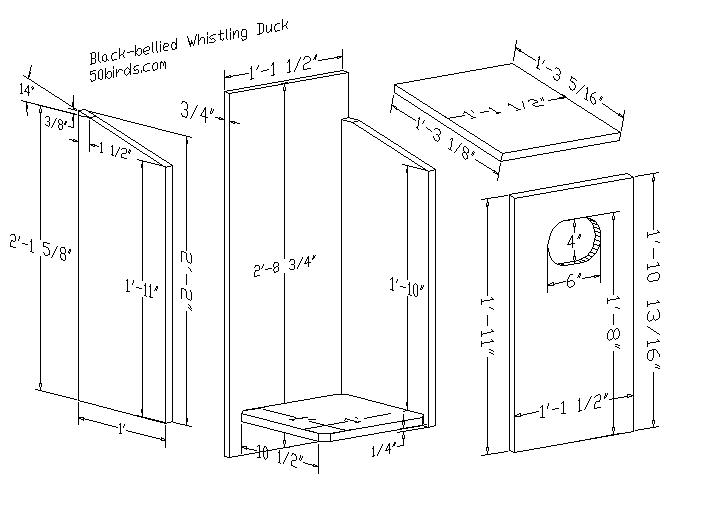 ​Some birders attach wire mesh on the inside front panel to help ducklings climb out of the box. If you do, bend the needle sharp ends over and fold behind. A better alternative may be to use plastic poultry or snow fencing, or similar material.
Attach boxes for black-bellied tree ducks to metal (preferable) or to wood posts wrapped with metal sheeting. Mount 4′ above water, 6′ if above ground, higher if it is likely to attract the curious. If above ground, locate near ponds where ducklings can quickly travel to water. Always protect with 3′ wide cone predator guards around the post, under the box.
Place 3″ to 4″ of wood chips (not saw dust) in the boxes. Remove everything from the box and clean well after the brood rearing season is past.
Wood ducks typically nest well before black-bellied whistling ducks. It is possible that both might nest in a tree cavity or nest box in the same season. Black-bellied whistling ducks usually raise two broods in a season.
Please do not attract duck families and leave them vulnerable to predators. Significant reduction in duckling mortality has been achieved using metal posts and cone guards below the boxes. Boxes installed near water and low to the ground with side opening doors provide easy access and safety. Easier and better.
Visit the Wood Duck Society. Follow their tested and proven best practices.