This platform is 2'x 2′ for Red-tailed Hawks and Great Horned Owls, and 4'x 4′ for Ospreys. It can be constructed with 2x4s or 2x6s or both and mounted on most any wood post (possibly steel or concrete).
Osprey platforms typically have fence-like side boards around the perimeter about 1′ high (not pictured here).
Always use corrosion resistant screws and hardware. Drilling countersunk pilot holes in primary and regular pilot holes in secondary work pieces reduces a tendency for wood to split and makes for easy assembly in minutes with a power or hand held screwdriver.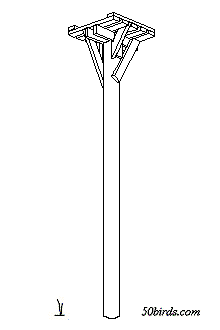 For both the Great Horned Owl, and the Red-tailed Hawk, the platform should be mounted 14′ or higher on a sturdy post or structure on a forest edge or in a clearing adjacent to a tree line.
Platforms for Ospreys should be installed very near, even over water, 14′ to 20′ high.
Both are significant installations with heavy materials at dangerous heights, which creates potential for serious accidents.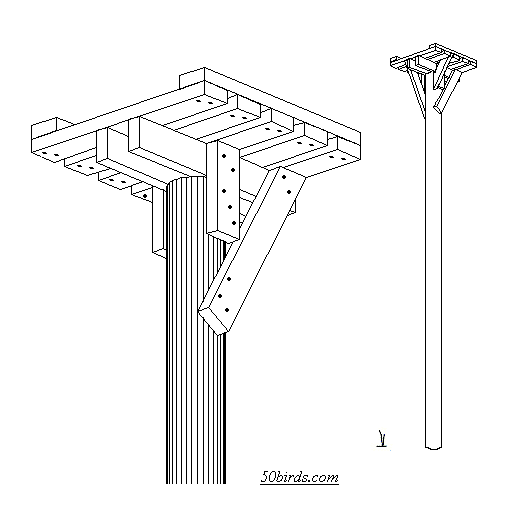 For the smaller platform at the lower height, experienced supervisors and workers can attach the completed platform to a post while laying horizontal and then by man handling and with rope tip up into a hole.
Assembling either platform on an installed post with sufficient scaffolding including railings to protect workers is another method.
Both methods require experienced professionals.
The danger in working with heavy objects at these heights can't be overstated. Don't create a hazardous situation by starting an installation without the proper experience, help and equipment.