Shelters for Black Phoebes, Barn Swallows & Cliff Swallows
Barn and cliff swallows and black phoebes build mud nests under bridges, overhead shelters and similar structures that provide protection and open access. These voracious insect eating birds are great neighbors.
There are cases where they have been attracted to a swallow shelter made specially for them.
One shelter has a 2″ by 8″ ledge, approximately a 8″ high gable roof, an open front and partially open sides.
Another has a 2″ by 6″ ledge, approximately a 6″ ceiling, an open front and partially open sides.
If shelter is available, there is no need for these designs.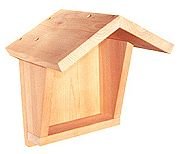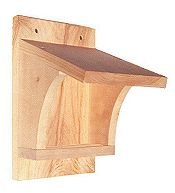 Barn swallows used to nest on cliffs, in caves and tree hollows. They have mostly adapted to nesting in human made structures such as barns, open sheds, under eaves and sometimes under bridges and wharves.
Cliff swallows historically nested in large colonies on cliff faces and many still do. Many have adapted to nesting on the undersides of bridges, often over water, under wharves and similar structures.
Cliff swallows don't nest near people as often as barn swallows although they sometimes nest under eaves.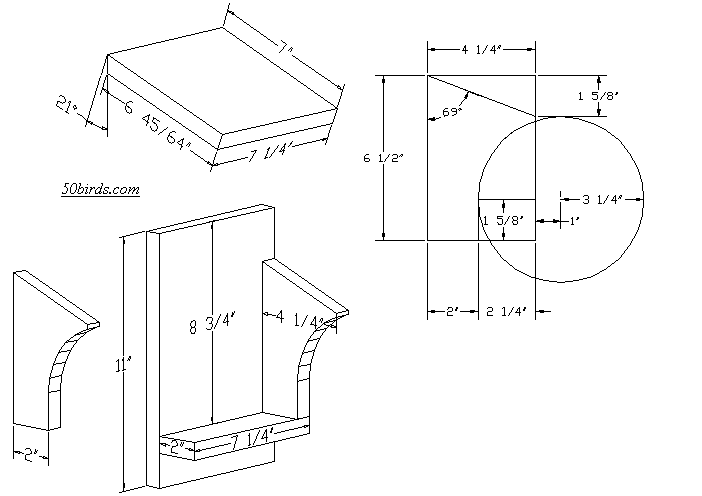 Mount shelters on the side of a garage or shed over looking open spaces from seven to twelve feet high. Place over water for cliff swallows. Carefully select a location that provides a balance of protection from predators and elements, access and visibility.
Do not mount in trees. Make sure objects that cats and squirrels can climb do not provide access to the nest. The purpose of a platform, or ledge, is to simulate an isolated cliff edge on a wall face. It's usually safe from predators and they can survey a wide area from their roost.
These shelters may be useful in only a few situations such as where no open shelters or eaves exist. The mud pellet nests of black phoebes and barn and cliff swallows readily adhere to vertical surfaces without any assistance.
Birds that may Nest under these Shelters